Jackery Explorer 500 Test
Nov 26
With the Explorer 500, Jackery offers a very interesting "power station" at first glance. A Powerstation is a powerbank only with a significantly higher capacity, which is intended for the garden, camping or the caravan.
Thus, the Powerstation Explorer 500 has a whopping capacity of 518Wh! In addition, there is a large variety of connections and a 230V socket.
Areas of application of the Power Station Jackery Explorer 500 EU

Backup for on-board batteries: If you want to take another step towards self-sufficient energy supply, you need reliable backups. The mobile lithium-ion battery with 518 watt hours takes up comparatively little space in the camper and, together with the foldable SolarSaga 100 solar module, is a solid backup system.
Festivals: The lightweight and handy Jackery Explorer 500EU is ideal for festivals.
Cell phones and tablets can be easily charged without having to rely on the often overloaded WLAN signal on the site. In addition, the Explorer 500 provides cool drinks from the 12-volt cooler. 
Freestanding with the motorhome: The Jackery Explorer 500 is ideal for powering smaller coffee makers, the laptop or a mini-fridge, even away from the shore power connection. Charging by solar energy is particularly interesting. If you park your camper in the south, you'll usually have enough hours of sunshine per day.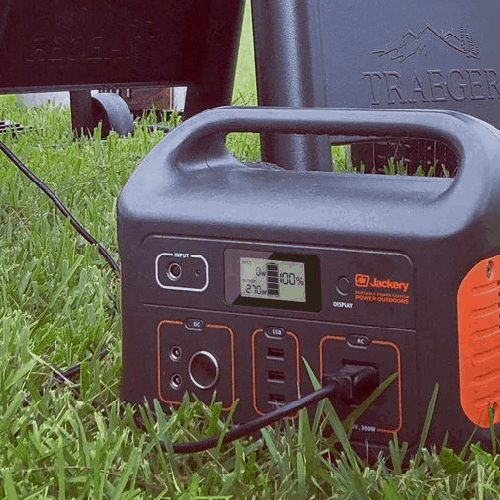 Size and weight

The Jackery Explorer 500 is about as wide and long as an ordinary shoebox. It measures 30 x 19.3 x 23.4 cm and takes up very little space in the camper or caravan.
This means that the dimensions of the Explorer 500 are much slimmer than those of the AC200P or the EB240. The Jackery 500 thus remains significantly more portable. This makes it a good choice for campground and festival campers - the battery with 518 watt hours can easily power the electronics brought along.
With a weight of 6.4 kg, the  Jackery Explorer 500 Test is about twice as heavy as the smaller Explorer 240 from the same manufacturer.
Display

The display is located at the top center of the front panel. The button to the right of it labeled "Display" turns the display on. In addition, the display button activates the display backlight for 15 seconds. 
If neither input nor output power is present, the display turns off after 15 seconds.
The LC display is very easy to read in direct sunlight, which is especially useful outdoors. We have already noticed with models like the AC200P that this is by no means a matter of course. In our test of the AC200P, the display was rather difficult to see in direct sunlight.
It is also pleasing that Jackery has given the Explorer 500's display an exact indication of the remaining capacity in percent. We also miss this feature in other models - for example, the AC50S from PowerOak only has a bar display, which is relatively inaccurate.
Besides this most important function, the display provides two other values: Thus, both input and output power are displayed in watts. 
"Input" shows us how many watts we are currently charging with. To the left of the display is the charging socket and a light blue LED indicates that the Power Station is actually charging.
The "Output" value is displayed as a total. It includes all consumers that are currently drawing power from the battery. 
In addition, the "Output" value already contains the consumption of the internal electronics. This means that we can calculate more precisely how long the Jackery Explorer 500 will last for certain consumers until it is empty.
The Jackery Powerstation Explorer 500 is quite a hunk! It measures 30 x 19 x 24 cm and weighs an impressive 6.4 kg.
Not surprising, since we have a very large capacity of 518Wh and the battery cells need space.
test jackery powerstation explorer 500 1
Even if this is not quite as clear from the pictures, the Powerstation Explorer 500 is a good deal larger than the smaller Powerstation Explorer 240, which looks quite similar.
Jackery also uses an all-plastic case for the Explorer 500. Unfortunately, the edges of the case are not reinforced with rubber, so it is not or only partially drop-proof.
Basically, the plastic case looks well-made and sturdy. The power station has a practical handle on the top for easier transport.
Advantages of the Jackery Explorer 500
DEVELOPED BY JACKERY - Our Explorer 500 is a premium class mobile power bank. Made of PC+ABS materials, wear-resistant and durable. Smart LCD display to show input power, output power and remaining battery power. Built-in light can be used as an automatic SOS signal. Dimensions: 30 x 19.3 x 23.4 cm; weight: 6 kg.
IDEAL MOBILE POWER SUPPLY- 1) On the go: digital devices like cameras, GoPro and drones stay fully charged. 2) RVs: power mini-fridges, coffee makers and stoves without additional equipment. 3) Parties: blenders, projectors, TVs to have lots of fun. 4) Outdoor activities: Supports charging the e-bike, kayak battery and more. 5) Home: perfect choice for your tools or as an emergency generator.
EXCELLENT PERFORMANCE - High quality lithium-ion battery with long life provides enough power to 230V/500W outlet (peak 1000W), 3 USB-A ports and 12V car port. Easy to charge with solar panel, power bank or in the car.
SILENT, SAFE & ECO-FRIENDLY - The battery also serves as a solar generator with built-in solar charge controller with MPPT technology for highest charging efficiency. The BMS battery management system includes overheat protection, short circuit protection, over current protection and over charge protection, for maximum safety.
EXCELLENT QUALITY - Jackery specializes in sustainable outdoor power solutions. Our product design is a winner of the 2016 Red Dot Award, making it highly popular with hundreds of thousands of customers worldwide.
SATISFACTION GUARANTEED - Customer satisfaction is especially important to us at Jackery, we are always open to questions, opinions and suggestions, and our service team is always available.
Conclusion for the Jackery Explorer 500 Test

Are you looking for a large and powerful power station? Then the Jackery Explorer 500 is an exciting choice! It is especially convincing due to its massive capacity.
Depending on which port you use, it can even slightly exceed the manufacturer's specification with up to 546 Wh!